Tips For Aligner Success
Taking Care Of Your New Smile
When you choose clear aligners for your treatment, you can eat and drink without any restrictions (just be sure to take your aligners out for anything other than water.) Your primary job is to make sure you wear them at all times when you're not eating, flossing, or brushing. Even so, below you'll find some helpful information to make your time in treatment with aligners efficient, comfortable, and worry-free.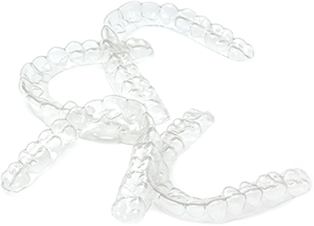 1.
Always follow Dr. Michelle's instructions regarding when to change to your next set of aligners. You might think you can speed things up by changing them sooner than scheduled or minimize any discomfort by changing them later than prescribed. Don't do that:-). Dr. Michelle has carefully calculated the proper timing.
2.
When it is time to switch to a new aligner, consider doing it right before bedtime. Your aligner exerts the most force when you put it in for the first time and this may enable you to sleep through those first hours in your new aligner.
3.
Some of our patients report that any discomfort they experience with their clear aligners is most noticeable when putting the trays in or taking them out. However, pain relievers like ibuprofen, aspirin, and Tylenol can help. Just be sure you are not exceeding the recommended dosage, and if the pain does not go away, be sure to tell Dr. Michelle.
4.
Your aligners are custom-fit for your mouth and your mouth only. While most of your aligners present no problems, occasionally you get one with a sharp or rough edge, which can cause some irritation. If this happens, we are happy to polish it for you! However, to save you time and a trip to our office you can soften the rough edge at home with an emery board!
5.
The 2 most critical things to get the tooth movement that is desired in the shortest amount of time is to wear your aligners for ~22 hours per day and to use your chewies ~5 minutes every day as instructed.
6.
Get into the good habit of "if your aligner is not in your face, it's in your case". It's surprisingly easy to throw them away if they are wrapped in a napkin. Also, dogs love to make them their chew toy if they're accessible!
7.
Be sure to continue to see your dentist for cleanings every 6 months during your orthodontic care!